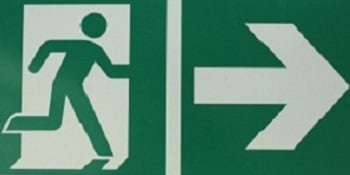 Every organization has high potential employees and managers (HIPOs). You know, the future leaders you can't afford to lose? The ones other organizations (including your competitors) would love to hire?
Whether or not they've been formally told, chances are your HIPOs know they are exceptional and have opportunities to advance. The question they often ask is, "Will I grow with my current organization or somewhere else?" Here are 4 steps you can follow to keep them invested in your organization:
1) Identify your HIPOs. Many organizations have a Talent Management process in place to identify their HIPO's and retention risks. If your organization doesn't, start by asking the simple questions below or contact us for complimentary tips to create a process.
Who do we see as our future leaders?
Who would we be ready to promote now or in 2-3 years if we needed another leader?
Who is already performing AND exhibiting the required leadership behaviors at the next level?
Who would I like clone or hire more of, if I could?
2) Tell them they're a HIPO. Once HIPOs have been identified, tell them they are and what it means. Have a clear and consistent message for what it means to them and the organization. For example:
"Through our talent management process, we have determined you are a high potential leader in our organization. This was determined by both your past results and the leadership attributes you currently exhibit (for e.g._______). This means we potentially see you in a different / higher role in ___ years (use a range) with potential to reach even higher levels long-term. These will, of course, depend on the business needs of our company and your performance going forward. Meanwhile we are going to take specific steps to help you realize your potential with the following approach …"
Some organizations are reluctant to communicate to HIPO's out of fear that other (non-HIPO) employees will become demotivated once they find out where they stand. This is a huge mistake for two reasons. First, you risk losing the HIPOs you don't inform. Second, you're missing an opportunity to communicate feedback and help develop the non-HIPO employees. The message to these non-HIPO employees could be something like this:
"You are a valuable member of the team with potential to advance, but at this point we don't have you rated as a HIPO. This doesn't mean you will never be in that category because we periodically re-evaluate all our employees. Through the talent management process, your strengths were recognized in the following areas A, B, C… and your developmental needs were identified as X, Y & Z. You'll need to demonstrate excellence in these areas while also delivering exceptional results in your current role to be considered as a HIPO. Let's put together a plan for you to set goals to address the gaps…"
It is critical that this conversation is direct with specific feedback and examples for both the strengths and challenges, therefore it is imperative that the leader prepares thoroughly for the discussion.
3) GROW your HIPOs. Informing your HIPO's is useless - even detrimental - if you don't do something about it. Create a tangible plan to help your HIPO successfully achieve the next level. Again, some organizations have a process for creating development plans. If you don't – no worries, you can use a simple process we recommend called GROW:
G = Goal: Have your HIPO create a goal statement focusing on preparing for the next level. SMART goals with measurable results and a defined timeframe. The statement should be aspirational for the HIPO with strong descriptions.
R = Reality: Describe the current situation for the HIPO. Good resources for this can be the talent management process feedback, performance reviews and feedback from peers and leaders
O = Obstacles & Options: Have the employee list their obstacles for attaining the goal. These are the "gaps" that need to be filled in order to achieve the goal. They are often skills, knowledge, behaviors, and lack of experience. Habits or personality traits are often limiters for advancement and must be overcome.
W = Way Forward: These are specific action steps the HIPO must take to achieve the goal. This should be a comprehensive plan - all obstacles and gaps must be addressed. Input from other senior leaders should be included. Dates and responsibilities must be assigned for each action and the HIPO held accountable for executing the plan. Sending the HIPO to an external leadership program designed specifically for HIPO leaders should be strongly considered. "Getting time away" with leaders from other organizations lets the HIPO really focus on their development and is a strong sign the organization is investing serious resources. Most often, the experience is highly regarded for many years.
The GROW process is not just for HIPOs, it should also be used to increase the capability for all employees.
4) Find Opportunities for your HIPOs. Obviously, the ultimate opportunity for a HIPO is a promotion to a new level or to a development position, but those aren't always readily available. The best talent developers are always looking for creative ways to stretch HIPOs and expose them to new things and experiences. These can be leading or participating in a new corporate initiative, being part of a cross functional project team, planning and leading an event, or a holding temporary positions within a different function to name a few. These can and should be integrated into the Way Forward plan above. The key thing here is to find creative ways to give the HIPO new growth opportunities and keep them engaged in the process.
Bottom line: If you don't have a strategy for developing your critical talent, someone else will!
Performex specializes in talent management & HIPO leadership development. Please contact us for suggestions and ideas - with no salesy pitches.