On Wednesday, September 21 John Bruce, Performex President and Chief Operating Officer, will be presenting a one-hour webinar, "Emotional Intelligence: A Practical Application." A web series offered by Talent Connections, LLC and Career Spa, LLC, the Wednesday Webinar series provides helpful information for HR professionals. John's session will be an interactive online session discussing EQ and its role within the workplace.
Emotional Intelligence (EQ) has been the subject of many books and articles written over the past few decades and there are strong correlations between EQ level, leadership success, and compensation level. What's exciting is that EQ (unlike IQ) can be increased with the right focus and practice. Therefore it has become a critical component of most leadership programs including the leadership development approach used by Performex.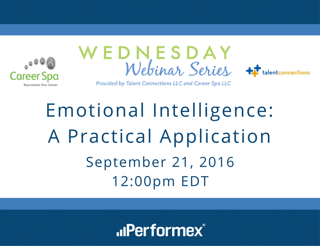 Webinar learning objectives will include:
Achieve consensus among teammates and coworkers




Understand your emotions and influence the emotions of others in a positive way




Overcome the causes of difficult behavior in others




Gain respect from everyone with whom you come into contact
Wednesday, September 21, 2016
12:00pm EDT
Click here to register to attend this free event!
To learn more about John's last Wednesday Webinar, "Supporting Innovation as an HR Business Partner," click here.