In our workshops over the past 40 years, managers have discussed the challenges of trying to do more with less. They talk about the difficulties of managing time due to budget cuts, restructuring, information overload, and leading a multigenerational and multicultural workforce. At the same time, the importance of delegation is recognized - the majority of our participants admit that their career was positively impacted when they were given a challenging assignment from their boss. In fact, recognize this event as the single most impactful thing that stretched their abilities or provided exposure to help them develop to a higher level.
Effective delegation skills are essential in helping managers not only manage their time and responsibilities but also develop their team members for future success. By entrusting team members with new responsibilities, managers help their teams develop new skills and capabilities. Delegating also builds a manager's coaching and feedback skills.
The Importance of Delegation
Empowerment = Results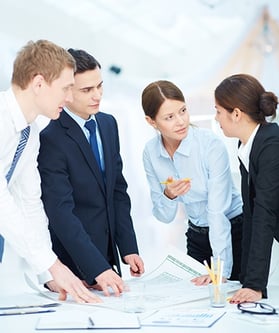 By boosting the skills and capabilities of your team, you empower them to get more done! Delegating challenging assignments to your employees will increase the team's responsiveness, productivity, and results.
Time/Resource Utilization
Optimize others' capabilities, your time, and your focus through delegation. By sharing accountability, you can refocus on higher risk/higher impact strategic priorities.
Building a Stronger Team and Organization
To strengthen your organization and your team. We encourage you to spend about 30% of your time investing in the development of others. By delegating, you're on your way.
How Can You Effectively Delegate to Develop Others?
As you plan and prepare to delegate, ask yourself:
What can be delegated? If your team is still developing, consider first delegating tasks that are lower risk/lower impact such as returning calls or attending meetings.
Who will do the work? Do they have the right competencies and motivation to get this work done? Will this project help them develop key skills? What's the likelihood of success?
How will the work be done? What are the desired results? What are the objectives and goals? What resources are needed? How often should I follow-up? What are the consequences if the project is not completed to standards?
When and how will progress be reviewed? How often should I follow-up?
How will skills gaps be managed? If a team member doesn't have key skills, then I can: a) Add other team members to offset weaknesses; b) Leverage a key sponsor by asking for help with roadblocks; c) Jointly create a training plan; and/or d) Coach to develop the competency level needed.
Next Steps in Your Delegation Journey
Make a commitment today to identify all the tasks you perform daily. These include meetings you attend, conference calls, stakeholder interactions, reports you provide, etc.
Analyze these tasks and ask yourself which can be delegated. If you struggling, ask yourself why you are uncomfortable. Assess how delegating the task will help your team grow.
Prepare a delegation action plan identifying the task you plan to delegate, who you plan to delegate it to, when you will delegate it, and how often you will follow-up.
Talk to your team about your delegation plan and why you are making these changes. Express confidence that they can accomplish these new responsibilities. Invite questions and suggestions.
Monitor how well your delegation plan is working, ask your team for feedback, and make adjustments.
Let us know about your own delegation journey. What works, what doesn't, and what do you recommend? We would love to hear your ideas!