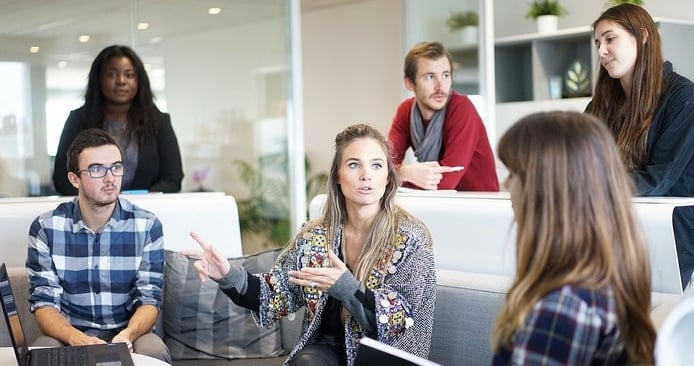 https://cdn.pixabay.com/photo/2016/03/09/09/22/workplace-1245776_960_720.jpg
The workplace is continuously changing by the day, thanks in part to the new generation of workers and the rapidly evolving technology they bring with them. The US Bureau of Labor Statistics noted that by 2020, millennials would account for over half of the American workforce, and by 2025 they're projected to take up 75 percent of the global workforce. But who are the millennials?

The Millennials

The working definition of millennials by the Pew Research Center has them pegged as those born between 1981 and 1996. Born in an era that experienced rapid shifts in all major aspects of life—from politics to technology and culture—they are often misunderstood by generations preceding them. As the first generation to recognize generational injustice and speak out against it, millennials have often been labeled as lazy, whiny, and irresponsible. However, these stereotypes are far from the truth: as noted by the post 'Managing Millennials Dummies Cheat Sheet', in reality, millennials aim for efficiency and effectivity when it comes to working on tasks. They also give great weight to feedback, as it allows them to ensure that they are right on track. Seeing that the workforce will soon be overtaken by this generation of tech-savvy, collaborative, and adaptive generation of workers, what are some of the ways through which millennials can be better coached and managed in the workplace?

Guide and lead

In our post 'How to Build a Culture of Coaching', we said that excellent coaching is critical in the development of high caliber employees. Although this sentiment applies to any generation, it is even more true for millennials due to their innate drive to learn and receptivity to feedback. Millennials also place little to no value on rigid and traditional structures of authority. As a result, they are more responsive to encouraging and approachable leaders who exude professionalism and expertise.

Value work and life balance

As a generation born in the shadow of wars and at the height of increased connectivity and accessibility, millennials see the value of opportunities and the number of things they can do through the help of technology. Guthriejensen claims that millennials are able and willing to accept a lower salary if it means securing better work-life balance.



Utilize technology

Millennials are currently the primary drivers behind technological and digital innovations. As a result, multiple industries have been keen on getting better at incorporating technology to which millennials are more receptive. Maryville University developed a Cyber Fusion Center to appeal to more millennial students, allowing them to become the third fastest-growing private university in the US in 2017. Similarly, credit union service organizations (CUSOs) have developed proprietary CUSO platforms to attract millennials, fighting age-old notions that credit unions are unable to provide members with user-friendly, digital membership and loan application processes.

Value mental wellbeing

Through a study published by the Harvard Business Review, that half of the millennial workforce has reported leaving their jobs due to mental health reasons. Employing a coaching method such as GROW, which emphasizes helping employees become more self-aware and be in an ideal mental condition that allows for better learning, will not only help millennial workers stick with you longer but also help them become better employees.

Create a strong company culture

Creating a strong company culture meant that it is reflected in everything, from the projects that the company takes on to the tasks assigned to employees. Forbes noted that millennials are especially attracted to companies that have similar—if not similarly aligned—values as they do. Brought up with the belief that great things can be achieved through a willingness to learn and lots of hard work, millennials tend to look for companies where they can hone their skills and talents.

Whether you already have a system for managing millennials in place or are looking to implement one, contact Performex to help ensure the program is a success!
Article specially written for performex.com by Jocelyn Bauz