In today's technologically advanced marketplace, many organizations include teams of workers from diverse geographic areas and cultures. In fact, according to a Harvard Business Review study, 79% of employees said they always or frequently work in geographically dispersed teams. While virtual teams offer many advantages in regards to innovation and talent, remote team management introduces new challenges. Engaging and inspiring virtual team members requires a unique approach that is not often necessary when a team is co-located.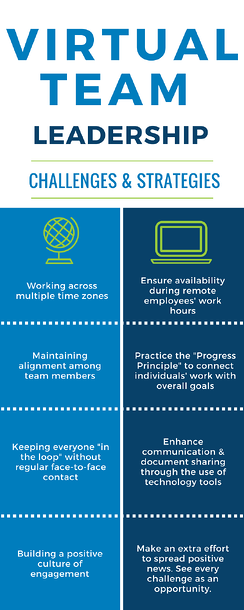 First, assess whether your team members display the traits of most successful virtual workers.
Proactive, problem-solving mindset
Outgoing, easily connecting with others
Self-motivated
Tends to assume responsibility for being understood
If your employees fit this profile, great! Their natural behaviors are aligned well with virtual work, and they are likely to be receptive to your engagement attempts. However, often virtual team members - including many technical professionals - may not quite fit the mold. In this case, it is the leader's responsibility to work even harder to engage these team members and to ensure that each team member is aligned with the team's culture and goals.
We believe that there are four key steps in cultivating engagement among virtual team members:
1. Make Emotional Connections: Build Relationships with Your Team
We recently discussed the importance of building emotional connections with your employees. In a virtual team setting, this is not only more important, but more challenging as well. Without regular face-to-face time, a leader must dedicate more time to developing bonds with each employee.
2. Align the Team
To align team members and gain buy-in toward common goals, the leader must clearly communicate overall goals and link each individual's objectives to the overall initiative. By practicing the "Progress Principle" and celebrating small wins toward large goals, the leader will engage employees and increase teamwork, although employees may be geographically dispersed.
Studies show that virtual team members are far more likely to receive timely negative news regarding the company than any positive updates. As a leader, one must make the extra effort to spread any positive news to those outside of the corporate office.
3. Establish Individual Accountability Standards
Innovative companies that are the most successful with remote management "share" their to-do lists in real time– including the boss. With endless technological tools at our disposal, we must identify the system that works best for each team, then establish and enforce accountability standards by maintaining constant contact and setting mini-deadlines.
4. Fine-Tune Communication Skills
Without in-person interaction, projecting confidence, clarity, and positivity are crucial to virtual leaders when leading phone calls with team members. Be aware of the tone of your voice, given the absence of non-verbal cues. Listen and ask questions in order to encourage input from introverted team members and experts who may not voluntarily speak up. Work to develop your written skills as well, and learn which circumstances call for email communication, phone calls, or in-person visits. Close the loop by letting your employees know the best ways to reach you as well.
As virtual team arrangements increase in prevalence, leaders are facing new challenges engaging and inspiring their teams. At Performex we work with organizations to develop custom engagement workshops for virtual teams, equipping the leaders and employees with the tools and strategies for connected success. Contact us to discuss our Virtual Team Management program and the impact it can bring to your organization.